sailing-yachts
Standing 164cm (5'4") tall this bronze model of "Endeavour", the 1934 launched America's Cup J-class racing yacht is shown under full sail, heeling in the wind – as the pinnacle of fine bespoke craftsmanship. The hull and deck are in raw bronze, the mast and deck surface arrangement are polished, the sails in slightly darker matte bronze. The "water" is shown in fused Lapis Lazuli, the "white water" either side of the hull in hand carved Rock Crystal. The ensign is hand-made from enameled copper. The total length of the polished bronze base is 145cm (4'9")
The configuration of polished or unpolished bronze surfaces as well as the choice of stone inserts in the base are of course up to each client – although this is our recommendation – as is the scale of the model.
Each yacht portrait is meticulously custom-made to commission.
We will arrange for a 3d model to be created from the yacht's Lines Plan as well as the GA and a good selection of photographs.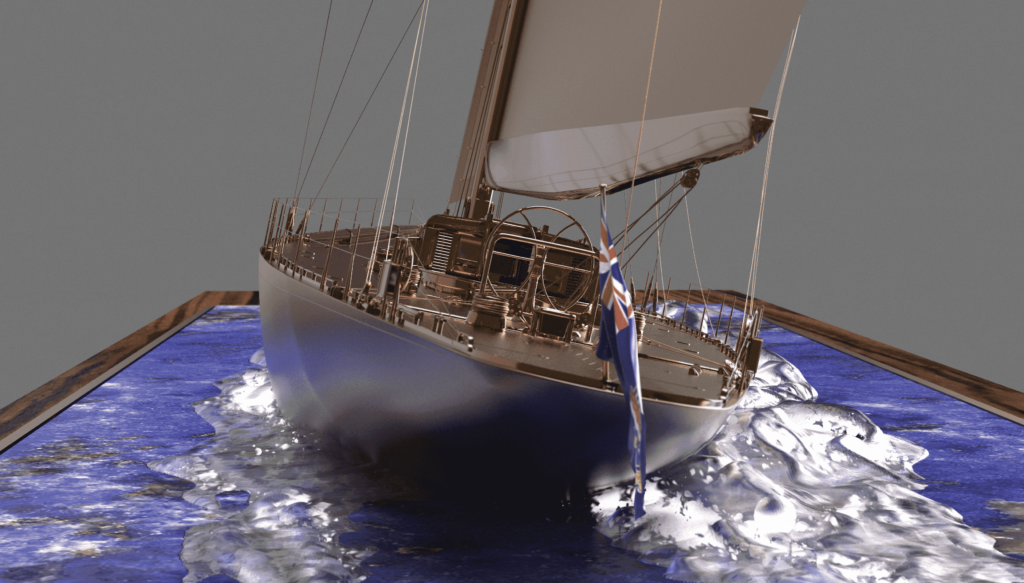 Size: 145cm (4 ft 9 in)
Finish: two-tone
Base insert: Lapis Lazuli & hand carved Rock Crystal
Ensign: enameled copper